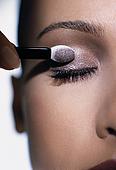 PERMANENT MAKE-UP
A durable and modern concept for modern women! The permanent make-up system by WILDE COSMETICS creates permanent natural-looking beauty. Let an old dream of mankind come true – the dream of everlasting beauty.
A simple principle for very effective results. Coloured pigments are inserted in the skin with extremely fine needles and the innovative kryo-technique. This technique reduces pain
and skin irritations during pigmentation to a minimum.
The pigmenting colours, PMC Colours have been tested for dermatological compatibility and meet the highest standards for purity and quality.
COMPETENCE AND QUALITY AT SERVICE FOR YOUR INDIVIDUAL BEAUTY!
Kryoliner PMC machine and all of LCN microcolors have been tested and certified, and the result is a first class permanent make-up. Our machines and colours are used world-wide and are one of the best products in the market.
REST OF OUR MAKE-UP SERVICES:

Eye lash curling
Artificial lashes
Colouring of lashes and eye brows
BY ARRANGEMENT, OUR MAKE-UP EXPERTS COME TO YOUR HOME ADRESS TO MAKE YOU BEAUTIFUL FOR EVERY OCCASION!