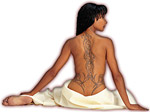 Choose a picture and decorate your body, and it doesn't have to stay there for the rest of your life.
Pictures, words, symbols… each one of us has something in his head that he thinks marks his life, his mood. We would like to say that to the world, let everyone one that it belongs to us, and that we belong to it. But tattooing something that we believe in right now is not always the best choice. People change, opinions change and fatty sub dermal tissue remains the same… That is the tissue that gets inked during the process of tattooing, and that is why the permanently done tattoo is hard to remove. We offer you an alternative, have the tattoo for 2-5 years, and if you still like it after that period make it permanent, or just let it fade away…
A simple principle for very effective results. Coloured pigments are inserted in the skin with extremely fine needles and the innovative kryo-technique. This techniques reduces pain and skin irritations during pigmentation to a minimum.
The pigmenting colours, PMC Colours have been tested for dermatological compatibility and meet the highest standards for purity and quality. Competence and quality at service for your individual beauty.
Kryoliner PMC machine and all of LCN microcolors have been tested and certified, and the result is a first class permanent make-up. Our machines and colours are used world-wide and are one of the best products in the market.