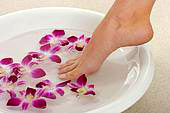 Our feet carry us through our lives. They therefore deserve special care.
BEAUTY CENTER ANĐELA provides a comprehensive foot care program with high quality and innovative products.
Let yourself be convinced by our comprehensive assortment. It meets all desires from mere care to toenail correction. The product line concept foot is a mature product concept which will help you to easily meet your customers demands and to get well-groomed feet. Beautiful feet are no matter of coincidence!