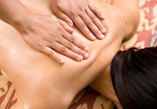 BODY SCRUB
Refreshing aromatic body peeling, making the skin velvety smooth and soft due to the balanced combination of medicinal sea salts and aromatic oils which nourish the skin.
BODY MASKS
a) SEAWEED AROMA PACK
This pack is based on seaweed, seamud and aromatic oils which are used to achieve the fast improvement in microcirculation, exchange of substances, removal of toxins fat from the body, and reduction of water in the body. After the treatment skin becomes tense and the body firmer. Skin is visibly smoother and more beautiful.
b) COOLING SILK PACK FOR THE BODY
This is the gel that cools down, mosturizes and regenerates. It is ideal treatment for dry or sunburned skin, especially during the summer. It gives a refreshing and soothing effect.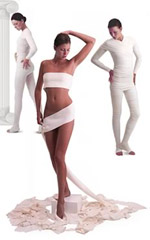 EFFECTIVE ANTI-CELLULITE BODY WRAP
Combination of body wrap, Cellulite Reducer Gel and a 30 minute massage. All areas subject to cellulite are treated. Additionally lymph drainage and acupressure faciliate detoxification and toning of the body.
SPA SENSATION FITNESS WRAP
Slimming support treatment is a unique combination of marine algae, salt and osmotic effect with cleansing gel, detoxifying mud pack (bandages) and activating algae gel. This treatment guarantees the loss of centimeters in problem areas. Skin and muscles become healthily toned. Anointed with metabolism-stimulating Algae Gel and wrapped in bandages saturated with Marine Salt, your body experiences unique tissue purification and detoxification. The measurable result after treatment; body silouette looks slimmer and contours firmed.
AROMATHERAPY BODY TREATMENT
This treatment includes application of essential oils in combination with thermoblanket in order to achieve better absorption of the oil, relaxation and detoxification.
BREAST FIRMING TREATMENT
Includes peeling, bust toning concentrate, age protection cream, vitamin-honey base mask, mineral mask and final firming cream.
VACU PRESS
Combination of suction and massage. 5 treatment methods available. Used for cellulite treatment, reduction of stretch marks, scars, toning, and breast firming. In face it cane be used for skin regeneration, acne treatment, lymph drainage etc.
ULTRA-SOUND
A machine which has 6 different types of electric waves combined together to allow us different face and body treatments. The machine is a combination of ultra sound and electro stimulation.
We can visibly reduce cellulite and accomplish a better toning. There are 43 pre-programmed treatments.

LYMPH DRAINAGE
Special preso therapy done by a machine with special leggings put on the legs and air blown into them. The delivery of air and the pressure in the leggings is computer controlled.
The treatments are pain free and very pleasant.



BODY ELECTROSTIMULATION
Works deep in the muscles, causes stimulation of the muscle fibre thus forming them and the body.
FOOT AND HAND WELLNESS
Feet and hand care that nourishes and pampers the skin with special products and supreme treatments.
HAND TREATMENTS:
Perfection manicure, followed by nail polishing, refreshing peeling for soft and smooth hand skin, nourishing mask with essential oils, relaxing hand massage, and finally hand aromatherapy.
FOOT TREATMENTS:
Individually prepared aesthetic pedicure with special essential oils, foot peeling, herbal mask, nail care, foot massage and finally foot aromatherapy.