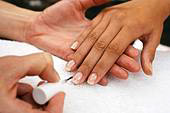 Basic nail and hand care. Consists of cleaning, repairing and recovering of nails so they would grow healthy and shiny.
In the process of manicure, we use creams, peelings, ampoules with nourishing ingredients (vitamin H, A, F, hydrating oils, d-panthenol...).
In hand care we use special regenerating products which encourage nail growth, and soften the cuticle (they are all natural).
FRENCH MANICURE
No other technique has been modern as long as the French manicure. Classical technique consists of three nail polishes in white, pink and beige. Today we have more versions of French manicure, for example it can be done in bright, strong colours but the same technique. LCN offers over 50 FM colours, and the number keeps growing.


NAIL ART
Professional nail decoration. Nail decoration was never so colourful and diverse. Educated and experienced beauticians in cooperation with you will create unique miniature master pieces.
NAIL IMPLANTS
Installment and upkeep of nail implants. We offer wide spread of gels and mixes that give us possibility of modeling nails and nail corrections. Highest quality of all the materials we use gives us the possibility to fullfill every wish of our clients in the best way.