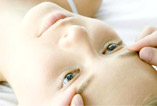 FACE TREATMENTS FOR ALL SKIN TYPES
A complete treatment that includes cleansing, peeling, facial massage, neck and decolette massage, nourishing of the sking with a help of an ampule, facial mask according to the skin type and a hydrating skin care.
COMPLETE FACE TREATMENT
Care treatment adjusted to all skin types includes an anti-aging treatment, cleansing, deep skin peeling with AHA, deep skin cleansing, high frequency, facial massage, neck and decolette massage, ampule, vitamin mask, and a hydrating care for face and decolette.

Oxygen treatment
The system for oxygen-deficient skin
As vitalizing as a fresh breeze! With this care your skin can breathe freely again when too little oxygen leaves it looking tired and pale. So that initial fine lines haven't a chance. Choose your individual care depending on skin type.
Moisturizing treatment
The system for moisture-deficient skin
The energy of freshly bubbling springs – captured in a series that helps your skin store moisture like a sponge. So that even in dusty-dry office air, it can glow with fresh, full firmness. And little creases can't even get started.
Vitalising treatment with a lifting complex
A treatment for mature skin which improves the skin rejuvination process with the help of a lifting mask. The lifting complex work momenteraly and visibly reduces fine lines and wrinkles. The result is better microcirculation, enhanced elasticity, and a more efficient cell metabolism.
AGE PROTECTION TREATMENT
An invisible magic cloak for a radiantly beautiful complexion. Environment- and stress-induced skin damages are prevented with the power of vitamins and marine algae. So free radicals haven't a chance. Your skin is protected and gains more tone and elasticity.
MASKS
Due to various problems caused by our everyday life, every skin shows certain lacks after a certain time. Cosmetics has developed its biological beauty system of special masks with flash effect in order to target every individual skin problem.

Mineral mask
Enables the skin to better absorb nutritional ingredients, visually stretch the skin and improve skin image, also stimulating circulation via homogenic warming.
Wax mask
By warming up the skin we get a relaxing effect, thus improving skin circulation. As it disables air flow during the treatment, skin moisture evaporation is also disabled.
Algae matrix
A massage mask based on algae-derivates. Decreases irritation and tension in the skin, cools, has a regenerative effect, smoothens rough, tense skin.
Collagen mask
Stretches the skin and intensively supplies it with moisture. No preservatives.
Peel-off lift mask
Cleanses the pores, cools the skin and stimulates the micro circualtion, regenerates skin procesess.
MICRODERMOABRASION
Therapeutical method of skin exfoliation, used both on face and body. This method is an achievement in combining newest scientific methods with natural processes. Helps remove or decrease:

stretch marks
hypertrophic scars (keloids)
hypotrophic scars (acne scars, chickenpox scars)
unequal pigmentation (age spots)
wrinkles and mood signs
bags under eyes
flaccid and toneless tissue