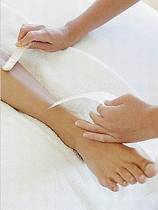 Depilation is a method of hair removal from different parts of Your body. One of mostly used method is wax depilation. This method is best to apply once or twice a month, to avoid skin irritation. It is best NOT to apply any cream or oils to skin before depilation.
Wax depilation is more efficient than shaving because with wax we not only remove hairs on the skin, but beneath it as well. This way hairs need longer time to grow back. In time hairs also become thiner.
Beauty centre Anđela offers wide variety of depilations with hot or cold wax for ladies as well as for gentlemens. We also offer wax depilation adapted to sensitive skin.
TYPES OF DEPILATIONS:

depilation with cold wax
depilation with hot wax (zagrijavanje na temperaturu tijela čime se sprečava pucanje kapilara, nakon depilacije koža se njeguje odgovarajućim preparatom koji je smiruje i usporava rast dlačica)
depilation by electrolysis with needle or tweezers
AREAS OF DEPILATION:

Foot depilation
Arms depilation
Bikini zone depilation
Face depilation